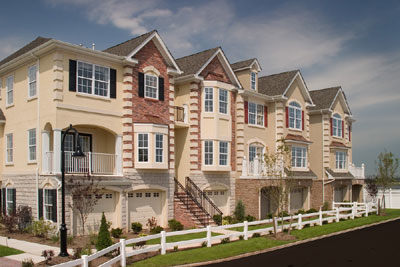 Riverside Court
is a unique gated community of 212 three-story luxury homes in Secaucus on a bend in the Hackensack River just minutes from Midtown Manhattan. The 15.2-acre Riverside Court site is just north of Route 3, immediately off the Meadowlands Parkway exit, and within view of the turnpike overpass.
The complex was contructed by Baker Residential from 2004 to 2007. It features a riverside pool and cabana, with a river walk along the Hackensack river. There is a public boat ramp nearby, and you can take canoe and kayak tours of the river and the Meadowlands marshes.
The exterior of the attached three-story town house buildings is modeled after classic 19th-century brownstones, with bay windows, arched entryways, Juliet balconies and French doors.
The Meadowlands sports complex, with Giants Stadium and the Izod Center, is just across the Hackensack River. Work has begun on open acres around the arena to build American Dream, a major entertainment-retail-office complex that could enliven the entire Meadowlands area economically.